Forthcoming and recent events featuring music, composers and artists associated with Altarus Records, and sometimes other events that we think are interesting.
---
NEW RELEASE!

AIR-CD-9064(2) [2CDs]
Kaikhosru Shapurji Sorabji
Symphonia brevis (Symphony No. 5 for solo piano).
Donna Amato, piano
The extensive notes that accompany this release make a convincing case that it was in his cycle of enormous solo piano symphonies that Sorabji found the structure that allowed his extraordinary creative fecundity its most satisfactory means of expression. Certainly, on the strength of this, the penultimate, and shortest (at a bit more then 2 hours) of the series, it does appear that this unusual and ambitious form brought out the best in him. Even given its duration, and span of 7 (or, depending on how you count them, 9) movements, the piece seems startlingly compressed, yet it contains stellar examples of all Sorabji's most characteristic styles (apart from variations, which he reserved for the larger symphonies). Part 1 consists of the first movement, a teeming 35-minute bombardment of themes, ideas, motifs - presented and then immediately developed by combining them, or fragments of them, or transformed versions of them, while more material is simultaneously introduced and drawn into the argument. Every conceivable pianistic texture is thus conjured, from moments of static repose through 2-part invention to the shattering pylonic chords familiar from Opus clavicembalisticum. Part 2 begins with a trio of slow movements separated by two brief, highly virtuosic cadenza-like scherzi. A stately Adagio is separated from a very different, more linearly conceived and melodically gorgeous Aria by a bravura toccata; then a fast interlude acts as an introduction to a magnificent Nocturne in the highly decorated, texturally complex tradition of the composer's 'Gulistan'. Anyone who has found Sorabji's fugue writing hard to approach will likely warm to this work's comparatively modest specimen, a fully worked out Sorabjian fugue in miniature, on two short subjects, the first flexible and songlike, the second, waspish but humorous, irresistibly reminiscent of the composer's reading of his aphoristic 'sacrosanct modern superstitions - with comments!' for a BBC broadcast. The fugue is preceded by a furious, brittle introductory prelude, and after the expected mountainous climax of a coda-stretta, followed by a complete surprise, even a shock (and remaining so even when you know it's coming); a further movement, based on a pedal point. This epilogue builds inexorably to a resolution as unexpected, and cathartic, as anything in Sorabji's output - and then the work seems to evaporate, or recede into invisibility in a vast, bright distance, apparently having charted a lifetime of experience (as Ronald Stevenson said of his 'Passacaglia') in a few short minutes. Donna Amato premiered this work in London and New York, and has subsequently played it in Pittsburgh. Her expertise in performing Sorabji's music is well known, and amply documented in her many performances and recordings. She is the only pianist to date to have performed any of Sorabji's works for piano and orchestra (the 5th Piano Concerto, in the Netherlands, 2003), in addition to her many performances of his solo works. Her extensive discography of some 20 CDs covers a wide range of repertoire, also reflected in her concert appearances as soloist and chamber musician.
Available from Records International, and other good retailers.
A video of Donna Amato's performance of the 'Adagio' from Symphonia brevis (Movement 2a) may be seen on YouTube at http://www.youtube.com/watch?v=veeCl-s4FnM
---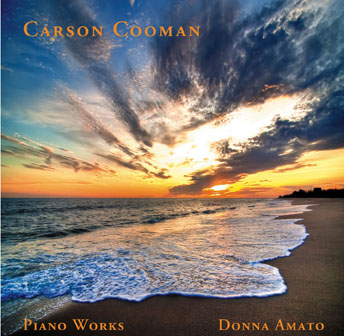 AIR-CD-9015
9 Preludes / Concert Piece: La Tricotea / Madrigal / Lullaby (after Rameau) / Summer Solstice / Bear Mountain Fragments / Madaket Dreaming / Mountain Toccata
Donna Amato, piano
As he approaches the age of 30, the astonishingly gifted and prolific young American composer, having previously demonstrated his effortless assimilation of a huge range of styles, has in the past few years arrived at a very distinctive personal idiom. As his recent works (including these, all from the past 4 years, and the marvelous cantata 'The Revelations of Divine Love' (2009)) clearly show, he consistently turns out works of instant appeal that belies their sophisticated craftsmanship and true emotional depth. The Preludes are a case in point; tonal and harmonically inventive, full of wry, deadpan harmonic twists. This strongly contrasted but cohesive set includes a jaunty little march-and-trio - very Shostakovich-like - a slightly demented folksong pastiche, scintillating, dancing scherzi (one an ingenious palindrome) - and in between, a funeral cortège (in memoriam Donald Martino), and several other slow movements, evocative of lofty echoing spaces. Many of Cooman's works are inspired by close contact with the phenomena of nature, rendered with the observant detail of a painterly eye and often employed as metaphor for profound spiritual and religious matters. Works of this type here include the irrepressible 'Mountain Toccata' with its Coplandish open-air quality and evocation of Appalachian fiddle music, or the freely rambling Bear Mountain Fragments, its steady progress constantly diverted by incidental beauty and drama in the landscape, or 'Madaket Dreaming', a Brittenesque sea interlude albeit from a warmer maritime landscape. The culmination of this expressive mode is the remarkable 'Summer Solstice', a blazing evocation of dazzling hard-edged sunlight expressed in equally brilliant, innovative pianistic terms. The vastly entertaining 'Concert Piece' is a work in free variation form, based on 'La Tricotea' a 17th-century motet that makes a more than acceptable 'La Folia' substitute. This unassuming tune is made to jump exhilaratingly through pianistic hoops from a fairly literal 3-part transcription of the original to extravagant pyrotechnics, in a gloriously extrovert celebration of pianistic virtuosity from the Romantic era to the 20th century. Donna Amato, well known for her committed and expert advocacy of contemporary and unusual repertoire (check out her recent performance of Geirr Tveitt's 4th Piano Concerto on YouTube) gives performances of exemplary character and clarity, presenting the music in the best possible light.
Available from Records International, and other good retailers.
A video of Donna Amato's performance of Cooman's 'Mountain Toccata' may be seen on YouTube at http://www.youtube.com/watch?v=t_JilA3OIlY
---
NEW RELEASE!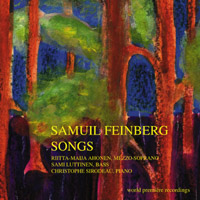 AIR-CD-9038
Samuil Feinberg
Songs (WORLD PREMIERE RECORDINGS)
Rita Ahonen (mezzo-soprano)
Sami Luttinen (bass)
Christophe Sirodeau (piano)
This recital comprises the bulk of Feinberg's song output (leaving aside a handful for other voices), all - astonishingly - receiving their world premiere recordings. Seven of them, in fact, were never published in the composer's lifetime, and for several of these this recording is the world premiere performance. Only far too recently revealed as one of the most original and consistently inspired composers of 20th-century Russia and the Soviet Union through his masterly cycle of Piano Sonatas (recorded on BIS) and last year through the rediscovery of the astonishing 1st Piano Concerto (recorded on Altarus AIR-CD-9034), the one missing component of our reappraisal of the composer was actually the most consistent aspect of his output, song. Throughout, Feinberg emerges as possessing a remarkable gift for melody, and his complete mastery of the piano shows in accompaniments of the utmost sensitivity, exquisitely judged to provide harmonic and dramatic underpinning to the vocal line. The predominant mood of the songs, and the texts - by some of the greatest Russian poets - that he chose to set, is of that particularly Russian brand of philosophical melancholy, which seems to have matched the nature of the man himself and provided his most natural and eloquent means of expression. The songs for bass include several of unforgettable dramatic intensity, among which an inventive and compelling setting of Rimbaud's 'Le Mal' stands out. Among the mezzo songs are to be found masterpieces of lyrical expression, from the emotionally wrenching 'Burned Letter' (after Pushkin) to the otherworldly resignation of the final Lermontov setting of Op.28, with its Four Last Songs or Das Lied von der Erde sense of final farewell, to Feinberg's invented folksong style of uncanny authenticity in the 'Maritsa' cycle. Christophe Sirodeau is well known for his passionate and expert championship of Feinberg's music; here he is joined by two stars of the European opera house and concert stage - both from Finland, steeped in the Russian tradition - in performances of passion, clarity and nuance. New translations of all the poems are included in the booklet, alongside an essay on the poets by the translator (Russian literature specialist Frank Jude), and detailed notes on the music by Christophe Sirodeau.
Zaklinanie (Incantation) op.4, No.1 / I ya opyat zatih u nog (Snezhnaya noch) (Once more I'm silent at your feet ­ Snowy Night) op.7, No.2 / V bezdeistvii mladom (In Youthful Indolence) op.7, No.3 / Drug moi milyi (My Beloved) op.16, No.2 / Tri kliucha (Three Springs) op.26, No.5 / Sozhzhennoye pis'mo (The Burned Letter) op.26, No.7 / Plennyi rytsar (The Imprisoned Knight) op.28, No.2 / Son (The Dream) op.28, No.3 / Yevreiskaya pesnya (Hebrew Melody) op.28, No.4 / Russalka (The River Sprite) op.28, No.5 / Net ne tebia... (No, it's not you I love so hotly) op.28, No.6 / Vykhashu ia odin... (Onto the Highway, on my own, I walk) op.28, No.7 / Maritsa, op.47 / Ne pravda li my v skazke (We're living in a story) op.14, No.1 / Ona rosla za dalnimi gorami (Beyond the distant mountains she grew up) op.14, No.2 / Sapho / Kogda... Golos vetra (When... The Voice of Wind) op.14, No.4 / Naprasno ya begu k Sionskim vysotam (In vain I hasten onto the heights of Sion) [op.16, No.3] / Yevreiskaya pesnya (Hebrew Melody) [op.27] / Biedstvie (Evil)
Available from Records International, and other fine retailers.
---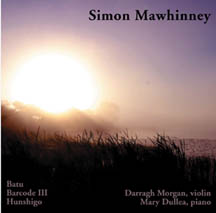 AIR-CD-9027
Simon Mawhinney (b.1976)
Batu
Mary Dullea, piano
Barcode III
Darragh Morgan, violin
Hunshigo
Darragh Morgan, violin / Mary Dullea, piano
As Michael Finnissy notes in his appreciative introduction to this CD, Simon Mawhinney's music is characterised by "a balance of mysterious other-worldly stillness and lavish ebullience of texture"; he notes that "A specific history is admitted and celebrated" and that this history is linked to one of the most unusual figures in 20th-century music, Sorabji. There is no 'school' of Sorabji; a composer sui generis, his supposed influence even over the limited number of composers who claim such a thing has mainly seemed restricted to the granting of a kind of license to write work of great length or complexity, as though that were all there was to it. Mawhinney stands apart in that a genuine, organic connection can be felt in his phrase-shaping, harmony, the building of drawn-out ecstatic tension and its release in catastrophic peroration. Mawhinney was introduced to John Ogdon's legendary recording of Sorabji's 'Opus clavicembalisticum' during a formative stage of his development as a composer, and its impact was profound. The Sorabjian legacy never feels imitative, though; more thoroughly absorbed and transmuted through the younger composer's imagination than that, Mawhinney's scintillating toccata writing, or intricate nocturnal passages are the direct descendants of similar aspects of Sorabji's writing. (Several of Mawhinney's large-scale solo piano works, of which a recording is in preparation, contain explicit and deliberate nods to identifiable woks of Sorabji, probably the first extended instance of this particular æsthetic succession, and all the more remarkable for that.)
'Batu' begins with a skittering toccata, out of which a theme emerges in relief. The title refers to a Hindu shrine in Malaysia, only reachable by the ascent of hundreds of steps. The sense of mounting anticipation as the elaborated 'chant' progresses toward a passage of dissonant chords - a very Sorabjian climax, this - is clearly felt in the piece's sense of forward motion. The composer is a formidable pianist in his own right, and this is instantly apparent in the stunningly virtuosic yet always effective and idiomatic piano writing.
'Barcode III' explores a range of extended violin techniques related to middle-Eastern string playing and methods employed by Sciarrino in the creation of his characteristically fragile and unearthly instrumental sonorities. The piece focuses on extravagant virtuosity and the widest possible range of sounds and techniques.
In the process of working on 'Batu', the composer used a system of computer analysis to tabulate the possible harmonic permutations implied by every combination of notes in the theme. This is merely an updated, and exhaustively comprehensive, extension of the tables of modes, scales and note-row permutations employed by many composers of the pre-computer age, of course. But in a fine example of the processes of the composer's workshop staying in the composer's workshop, it is impossible to tell when this technique was utilised and when it was not. In composing 'Hunshigo', no such analytical method was used; the harmonic choices were based on sonority, with the piece's structure evolving organically as the composer worked on it. What is remarkable, though, is the consistency of Mawhinney's harmonic thinking. He has an instantly identifiable style, for all its demonstrable antecedents, which he has made very much his own in all these works.
The opening of 'Hunshigo' (the title is the name of a mysterious, isolated lake in Ireland), in sonorous block chords for the piano, begins with a sense of Busonian foreboding, then takes this ambiguous harmonic material in a direction that Ronald Stevenson might have done, before accessing a more chromatic, dissonant soundworld very reminiscent of Messiaen, who clearly remains an influence throughout. The work breathes in long phrases, rising out of mysterious nocturnal mists into an unsettled half-light, a region of the imagination where conscious thought meets dream and unreality. The whole piece, in fact, feels like a journey down through ever more inaccessible areas of pre-conscious thought. Technically, the work is a stunning tour de force for the violin, requiring extraordinary control over breathless phrases that last for minutes on end and a multitude of technical devices all ultimately serving the cause of sustained tension and profound lyricism. The climax, in soaring double-stops over an apocalyptic mælstrom of piano accompaniment is as impressive a passage of chamber music as you are likely to encounter.
Available from Records International, and other good retailers.
---
NEW RELEASE!
AIR-CD-9034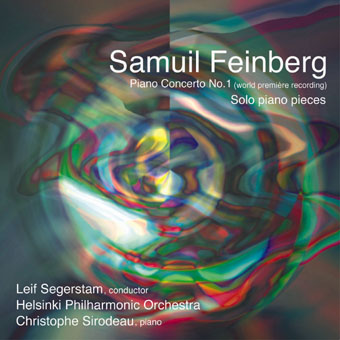 Samuil Feinberg
WORLD PREMIERE RECORDING of the long lost FIRST PIANO CONCERTO!
Concerto No.1 op.20 in C Major for piano & orchestra [1931]*
Christophe Sirodeau, piano / Helsinki Philharmonic Orchestra / Leif Segerstam, conductor
Fantasia No.2, op.9 in E minor [1919]* / Etude op.11 No.1 in Eb major [1919] / Prelude op.8 No.2 in A minor [1917] / Prelude op.8 No.4 in Eb major [1917] / Etude op.11 No.4 in F minor [1919] / 3 Preludes op.15 [1923] / Berceuse op.19a [1927] / The Dream (from op.28) op.posth [1955]* / Album for Children op.posth [1961-62]*
Christophe Sirodeau, piano
* World première recording
Feinberg's 1st Piano Concerto, long thought lost, turns out to be one of the great forgotten masterpieces of early Soviet times, and one of the finest works by one of the most significant composers of the era, to boot. Feinberg performed the piece twice in the 1930s and it was then misplaced, to be rediscovered by the present soloist in the 1990s. This recording is from the work's only other performance to date, in 1998. Beginning unassumingly, diffidently, with a statement of the principal theme that pervades the entire piece, the concerto rapidly darkens in mood and embarks on a tragic, epic journey of over a half-hour's duration, alternating moods of uneasy tranquility, devastating despair and apocalyptic vehemence. After trying out elements of all three, the music abruptly plummets to the depths in one of Feinberg's most memorable inspirations; a vast, inexorable, nightmarish cortège in which the piano - reduced to a concertante, yet fiendishly difficult role - spasms like a sparking dynamo trapped within a huge, decaying yet implacable machine; a truly terrifying episode, comparable to the first movement of Mahler 6 or the cumulative climaxes of Pettersson 8. This subsides into a funeral march of the utmost bleakness, which Feinberg adapted and extended from his formally odd, highly inventive 3rd Sonata, the gloom alleviated by reconciliatory passages for the orchestra. Dynamic, driven music follows, leading via a brittle, angry fugato to the work's explosive cadenzas, before dying away into a semblance of calm before the final climax, suggesting victory, though hard-won. Perhaps surprisingly, as Feinberg is usually thought of as a successor to Scriabin, the influence of Busoni is very strong; there is more than a little of Doktor Faust in both the atmosphere and musical phrase-shaping of the piece, and of Busoni's own concerto in the conflict between concertante writing and extreme virtuosity of the solo part. The solo works - several also receiving their world première recordings - fascinatingly chart Feinberg's compositional evolution. Pre-eminent is the extraordinary 2nd Fantasia, a haunted and violent work from 1919. With the passage of time the Scriabin influence grows and recedes, and the later pieces - a beautiful, tragic song transcription from the 1950s and the enigmatic, aphoristic 'Children's Album' - the composer's penultimate work, unpublished in his lifetime - betray an understated, scholarly melancholy, far removed from the rumors of impending Armageddon present in the earlier works, yet no less telling on a personal level. A revealing and important release for our ongoing reappraisal of this major figure.
[Courtesy Records International]
For more information on Feinberg, and the performers on this CD, please visit the website of the International Feinberg-Skalkottas Society
---
AIR-CD-9075 (5)
Sorabji - Opus Clavicembalisticum
John Ogdon, piano
With the greatest pleasure we can now announce the return to the catalogue of our most famous - or notorious! - recording: John Ogdon's extraordinary account of Sorabji's Opus Clavicembalisticum, recorded during the tragically brief late renaissance of the pianist's career between his 'return to the concert platform' (after years of illness) in the early 1980s and the swift decline in his health at the end of that decade which led to his untimely death at the age of only 52 in 1989. Since this recording was made - almost 20 years ago now - Sorabji scholarship and performance practice have grown out of all recognition. Yet there is still very much an important place in the catalogue for this, the most heaven-storming, quirky, sometimes infuriating, often breathtakingly brilliant, account of Sorabji's most famous work. Ogdon was quite simply a pianist sui generis, and there is very little point in even comparing him with anybody else. The risks he takes in this colossal work - tempi on the verge of total immobility, alternating with exhilarating, demonic, breakneck speed; dynamic contrasts between the edge of inaudibility and volcanic explosiveness - are tremendous, but such was the scale on which his imagination worked - similar, one might suspect, to the composer's own - that, controversial as they may be they far more often succeed, and succeed magnificently, than misfire. For a true and complete picture of the composer, now rapidly emerging as one of the very greatest and most original figures in 20th-century music (thanks largely to the more recent achievements of tireless advocates like Jonathan Powell and Donna Amato), one cannot avoid taking account of this truly unique recording. Spread over 5 CDs (the previous edition was on 4, but the price is unchanged) with the principal benefit that the great Theme and 49 Variations is no longer split over 2 discs, the recording has been completely remastered from the original master tapes using state of the art 24-bit digital technology and our engineers' customary meticulous attention to detail, allowing the massed sonorities and filigree delicacy of Ogdon's playing to be presented with a degree of clarity and precision surpassing even that of the previous editions, in which it was widely hailed as exemplary. The new edition is packaged in the now-familiar 'opera set' format (which did not exist when the set was first issued) with the CDs in a 5-CD case alongside the booklet, now 100 pages, in an outer slipcase which fits on normal CD shelves. The booklet has been extensively updated and incorporates numerous small but important revisions and corrections to the text. All the essays and photographs from the previous edition are included: Ronald Stevenson's masterly analysis (with 35 music examples), the composer's own note on the piece, a comprehensive list of Sorabji's works (the most up to date and accurate currently in print), John Ogdon's provocative and illuminating essay on Sorabji and Herman Melville, and much other material besides. [5 CDs for the price of 4]
---
---
In SORABJI news, we were rather remiss in not welcoming immediately Fredrik Ullen's 3rd Volume of the Transcendental Studies on BIS. Further expanding our understanding of Sorabji's amazing compositional range, this series is an increasingly valuable resource as it progresses. Here's what the folks at Records International had to say:
The more we hear of Sorabji's music the more it becomes apparent that the breadth of his expressive voice, and the extent to which he never repeated himself despite his prolific production of frequently vast works over an unusually long creative life (about 70 years), were truly extraordinary. As the 100 studies progress, two things become apparent; that the inexhaustible wealth of invention contained here could have allowed him to produce a set of 343 had he had a mind to; and that as the cycle developed he seems to have become more interested in the music; there are progressively fewer pieces that sound as though they were written with mainly didactic intent (though the ones that do concentrate on specific Sorabjian figurations, scales and intervals (by this stage generally progressing through a series of different intervals rather than sticking with just one) certainly qualify as study material that would be a valuable addition to any pianist's arsenal of technique-honing material. Even the shortest, fast pieces with specific technical challenges sound more like characteristic scherzi than studies per se. The previous volume had one strategically-positioned extended nocturne-like piece; this has 2, the first a Jardin parfume-like entanglement of viny melismas; the other an increasingly dense impressionistic fantasia.
---
---
Kevin Bowyer has embarked on a mammoth project to produce new, scholarly editions of Sorabji's three monumental organ symphonies. You can read about this immense undertaking here.
---
Vendor News: Both Records International and Arkivmusic are now listed as independent vendors on Amazon.com. This is useful as it provides customers with alternative sources which may have advantages in price, shipping cost or availability. For some reason, Amazon sometimes incorrectly lists CDs as 'discontinued' or unavailable when in fact they are nothing of the kind, and in these cases a quick click on the 'available from these vendors' link will often bear fruit.
---
---
---
---
---
---
Sorabji concerts in New York, June 2004.
An article by Paul Griffiths that appeared in The New York Times on June 13th, 2004 can be found HERE.
---
The review by Allan Kozinn of Jonathan Powell's performance of Opus Clavicembalisticum, published in The New York Times on June 22nd, 2004 is HERE.
---